Fits:
2013-2016 Porsche Cayman 3.4L Models (S, GTS, Spyder, GT4)
3.4L Engines for "S" models and 2.9L Engines for "non-S" models.
Description:
We only offer "Competition" versions of the 981 Plenums which upgrades the factory 74mm throttle body with the larger 997 GT3 82mm throttle body. This combination has proven to be considerably more popular and deliver even more performance. This Competition version will work with both 3.4L "S" and 2.9L "Non-S" applications.
The 981 intake is nearly identical to the 987.2 intake. Porsche made a few upgrades with the 981, most notably being that the 981 draws outside air from both driver and passenger air intakes instead of the driver's side only as previously found with all 986, 987 and 987.2 applications. IPD has developed a custom silicone hose designed to perfectly fit the larger 82mm TB and considerably improve air flow.
The new 981 Plenums also benefits from the internal dimpling effect that we are now implementing on all future Plenums. This internal dimpling allows us to control the boundary layer and maximize air flow. Just like a dimpled golf ball travels farther than a smooth golf ball. Controlled turbulent air creates less friction and "tumbles" over a given area more efficiently.
Power gains with the 981 Competition Plenum are virtually the same as with the 987.2 Competition Plenum, putting down 20 horsepower and 16 foot pounds of torque at the wheels. The bulk of the power gains from the IPD Plenum begin around 4000 rpm, continues all the way through to redline and become fully realized in the 6000 rpm range. IPD performance gains stay above both factory power curves throughout the entire rev range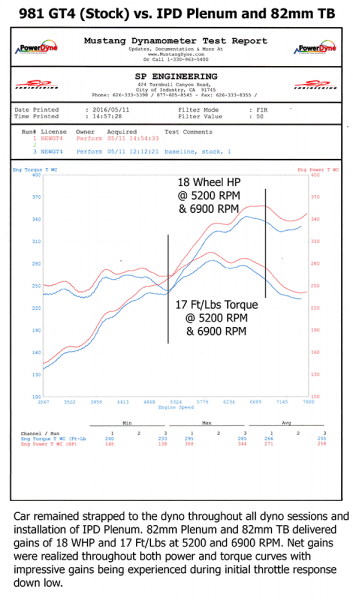 Includes:
Genuine 997 GT3 82mm Porsche Throttle Body
This is the larger Genuine Porsche Throttle Body from Germany required to fit the larger 82mm TB
We've got your back!
German Muscle takes "customer service" very personally. We understand that finding the right parts can be overwhelming. Education and awareness are the principles that keep us ahead of the curve. Let us make this experience simple, easy, and awesome, so without hesitation give us a call at (480) 569-3402, feel free to direct message on our live chat, or email us at sales@germanmuscle.co.
Make sure to follow us on Instagram: @GermanMuscleAZ