Whether you live in a hot climate region, enjoy drag racing, or long high speed pulls on airstrips the Alpha M133 AMG Intercooler will help keep your intake temps lower and maintain your AMG's maximum power output no matter the conditions. Your Mercedes 2.0L turbocharged engine does not use the typical air to air front mount intercooler (FMIC) you may be used to. Like many modern turbocharged vehicles, the A Series AMG uses coolant to cool the intake air charge through an air-to-water heat exchanger and intercooler system. While this OEM system may be sufficient for a stock vehicle under ideal conditions, it can quickly become ineffective when dealing with additional heat from increased horsepower levels.
Through our testing, we found the factory Mercedes-Benz intercooler can also fail, internally. This failure allows for the air and water sides of the intercooler to mix. This mixture inside the factory intercooler can potentially damage your M133 engine. Not something you want as a performance enthusiast!
Replaces the failure prone stock intercooler
Over 10% reduction in intake air temperatures
Designed with CFD software to maximize airflow
Motorsport grade dual-pass core for exceptional heat transfer
Massive 34% increase in core volume
Drastically increased flow for less pressure drop
Added fluid capacity further improves thermal stability
Direct bolt-in for easy install and includes all necessary hardware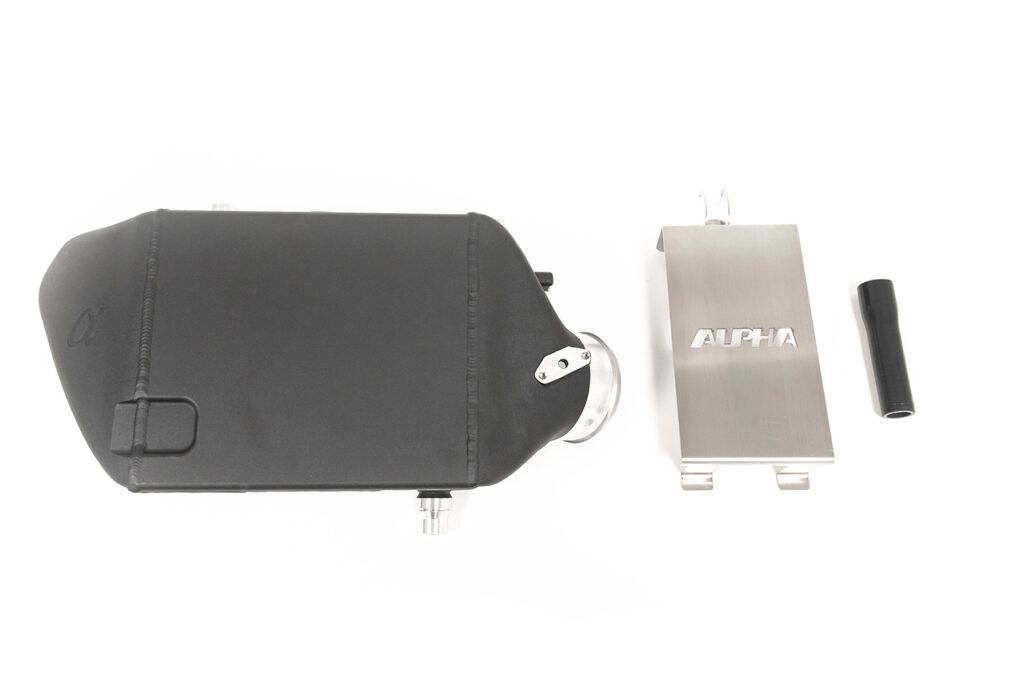 REPLACE THE FAILURE PRONE STOCK UNIT WITH A MOTORSPORT QUALITY UPGRADE
Over the years we have seen many factory intercoolers develop internal leaks which allow for the air and coolant to mix inside the intercooler core. This mixing of two separate systems can cause issues like lower boost output from the turbocharger, as well as the much more extreme scenario – liquid coolant entering your engine's combustion chamber. For the core of the AMS M133 Alpha Intercooler we chose a motorsport quality core to rectify this potential issue. This high efficiency, dual pass core is much larger and dissipates heat quickly for maximum cooling. Through our larger design, added fluid capacity and drastically increased flow, your 2.0L M133 turbocharged engine benefits from over 10% reduced intake air temperatures (IAT), boosting your power output!

INCREASED SIZE FOR MAXIMUM COOLING ON YOUR BOOSTED BENZ
By adding to the thickness of the OEM core you gain an extraordinary amount of added cooling by increasing efficiency. The Alpha intercooler core has an astounding 34% increase in volume over the stock intercooler! You gain an increased thermal efficiency over the entire intercooler system by installing the much larger Alpha M133 intercooler. The AMS Engineering Team actually designed the core with 22 fins per inch which allows for excellent airflow, and thus more heat transfer through the larger core.
UNPARALLELED FITMENT THROUGH PROPER ENGINEERING
Our SnailWorks© Engineering Team set out to make this intercooler upgrade not only the most effective on the market but simple to install. By using the included Alpha mounting bracket, the intercooler neatly clamps into place so you or your trusted mechanic can install it quickly and easily. The intercooler simply slides into the factory location, connecting to the existing intercooler piping and water lines.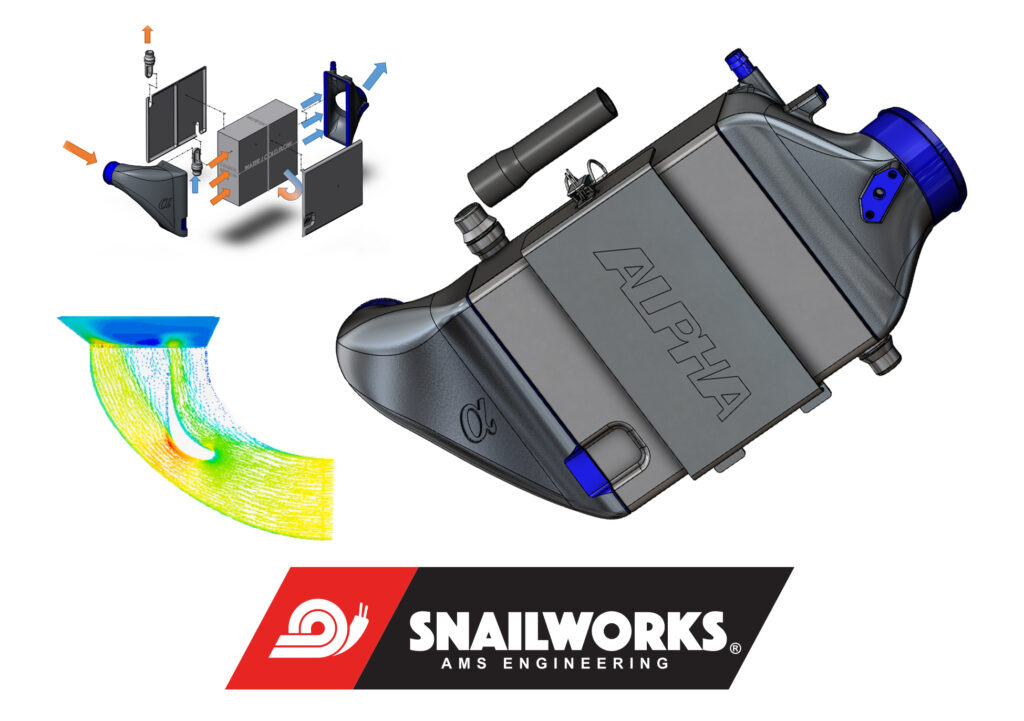 KIT INCLUDES
Dual Pass Air-to-Water Intercooler w/ Cast Aluminum End Tanks
Stainess Steel Intercooler Mounting Bracket
Silicone Hose and Associated Hardware
Online Installation Instructions
APPLICATIONS
W176 2013-2018 Mercedes-Benz A45 AMG
C117 2014-2018 Mercedes-Benz CLA45 AMG
X156 2014-2019 Mercedes-Benz GLA45 AMG
German Muscle takes "customer service" very personally. We understand that finding the right parts can be overwhelming. Education and awareness are the principles that keep us ahead of the curve. Let us make this experience simple, easy, and awesome, so without hesitation give us a call at (480) 569-3402, feel free to direct message on our live chat, or email us at sales@germanmuscle.co.
Make sure to follow us on Instagram: @GermanMuscleAZ